Taste the Difference!
Browse through our bountiful selection of organic apples, pears, plums and a few less expected but delicious varieties that our farm has to offer. We are talking figs and citrus! Our fig trees are perfectly suited to this climate and overwinter here with no issues while our citrus trees come in for a winter vacation in our solarium to beat the frost. There is nothing more exciting here than a fresh, homegrown lime!
Local produce is freshly picked, packed with nutrients, and selected for flavour and sustainability. Commercial produce has to be shipped for days or even weeks from as far as other countries. Choosing local means there is less of an environmental impact in the way the produce is grown, picked, harvested and transported, there is a higher nutrient density since the food is so fresh, and you know that the people farming here live here too! We want the land to be better than when we started and use all-natural organic methods to manage it. That means you won't find pesticides or intensive farming methods here.
Stock up today on fresh, nutrient-dense, organically grown produce!
Varieties and Offerings
APPLES
Gravenstein Apples
This is a great cooking apple early in the season and becomes a wonderful eating apple later in the season.
First grown in Denmark in 1669.
Juicy and crunchy with a classic sweet-tart apple flavour
Retains quality well into January when stored properly
Available late August to late September
Gala Apples
A cross between Kidd's Orange Red and a Golden Delicious
Sweet easy-eating apple
Sweet pleasant flavour, and surprisingly punchy when freshly picked
Retains quality well into April when stored properly
Available late August to early September
PEARS
Bartlett Pears – Green and Red Varieties
This is no doubt one of the most popular pears here and in Europe where it goes by "Williams"
Great for eating and canning.
Flavourful, sweet, crisp fruit
Softens and sweetens in storage for up to a month
Available late August to September
Beurre Bosc Pears
This is a classic pear that is perfect for eating, baking or drying
Smooth skinned with aromatic flesh that is juicy, sweet and tender
Stores well into December when kept properly cool
Available late September
D'Anjou Pears
This is a classic pear that is perfect for eating, baking or as a creamy sweetener for soups and sauces
Fine-textured white flesh with a delicate aroma
Available late September
PLUMS
Try our dried plums and we're sure you'll be a regular! 😂
Italian Prune Plums
This European plum is excellent fresh, canned or dried
Purple skin, sweet yellow flesh with a freestone
Available late August to early September
Yellow Egg Plums
This European plum is very sweet and is grown for the outstanding quality of the fruit which is excellent for dessert, cooking, and canning.
Golden skin, sweet honey flavoured yellow flesh with a freestone
Available in September
Beauty Plums
This Japanese plum matures fruit early for a sneak peek at summer flavours to come
Great eating plum
Red over yellow skin with sweet flavourful red-streaked amber flesh and a freestone
Available late July
Satsuma Plums
This Japanese plum matures fruit early for a wonderful start to the season
Great eating plum
Dark, solid red skin with dark red flesh and a semi freestone
Available late July to early August
FIGS
Nothing beats the taste of a freshly picked fig, if you don't like figs, you have never had a fresh fig! Figs store well for just a few days, then extra fruit can be dried or used in preserves. 😋
Desert King Figs
Yellowish-green figs with sweet and richly flavorful, strawberry coloured flesh
Amazingly sweet and delicate
Available July through August
Black Spanish Figs
Midsized black fruit with dark mahogany colored flesh
Very sweet, juicy, and firm fruit
Available July through August
Vern's Brown Turkey Figs
Large, sweet and flavorful, dark brown figs with light amber flesh
A true gourmet delight, you should not live your life without feasting on this sweet, delectable fruit.
Available July through August
OTHER FRUIT TREES
Persian Black Mulberry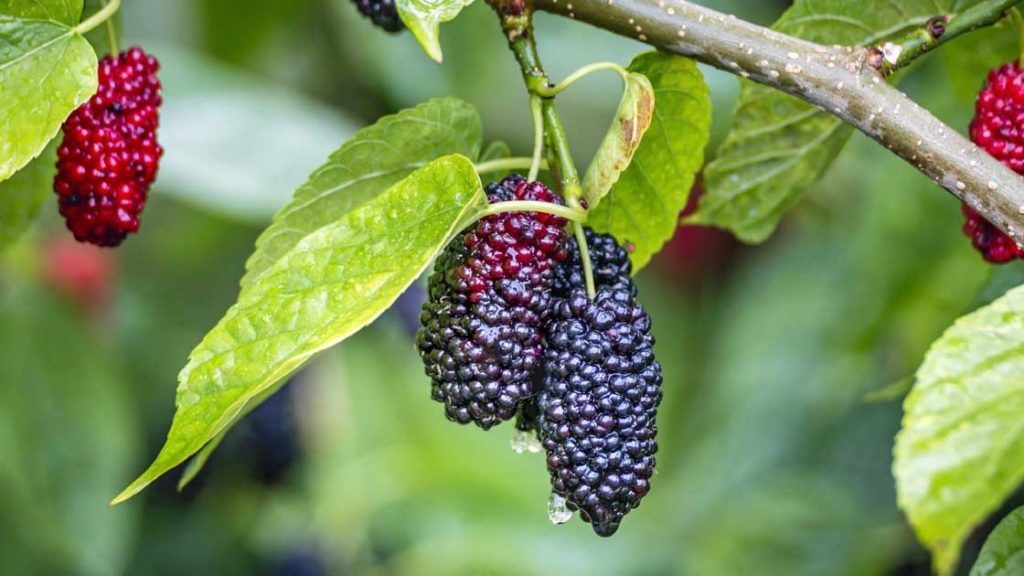 This is possibly the best fruit you have ever had!
Super sweet black fruit, watch out, it stains, but it is SO worth it
Exotic, sweet, and delicious
Eaten fresh or dried for a winter snack
Available late June through early September
Bearss Limes
Also known as a Tahitian or Persian lime, the fruit is larger than a Mexican lime, around 2-2.5″ diameter
Thin smooth rind and seedless pale green-yellow, juicy, finely textured, acidic flesh
Available late October to early January
Plans for the upcoming years
Fruit Trees
As we restore the farm and tame landscape, we plan on pruning and finding pollinators for several of the cherry trees on the farm. In the upcoming years, we hope to see very fruitful yields off the trees we have and perhaps add a few more varieties to the farm.
We also have grand plans for expanding our indoor solarium. In addition to our Bearss lime tree, we are excited to experiment with lemon, kumquat, avocado and banana trees. It might just be a dream, but can you imagine the flavour of a freshly picked lemon? This dream will be many years in the making, for now, we are excited by the possibility. Part of our commitment to sustainability is to start small. Hopefully, you will enjoy the journey with us as we experiment with these unexpected fruits.
Fruit Bushes & Vines
There is so much to do to prepare the land, but we are hoping to have blueberries, raspberries, and some interesting flavours (cotton candy anyone?) of table grapes in the next few seasons.
Gardens
Plans for the upcoming season include preparing and seeding our beds to offer up a bounty from three separate garden areas, fondly referred to as the "Pie Garden", "Salsa Garden", and "West Coast Veggie" gardens. Each raised garden will be prepared and maintained with organic methods, bursting with goodness and personality. We are looking forward to sharing our abundance! Stay tuned for more updates as more veggies, herbs and unexpected treats become available.
If you see something in our plans that excites you or if you want to see something in our future development, just let us know!